Various things I made
Videos
2017/04/01:
【ニコニコ動画】【エイプリル】 束方 嘘時空 ~ Fools rush in 【フール?】
■I turned this April Fool's joke project into an actual game, released to critical acclaim!  
2015/12/25:
【ニコニコ動画】東方乖靈異伝 ~ 地獄行き ~
■Last part of the PC-98 series. It's finally all overrrrrrr...  
2015/06/28:
【ニコニコ動画】【第7回東方ニコ童祭】 束方 恋宴戦記 【東方新作情報なわけない】
■Here's a video of a game I made for the 7th Touhou Nico Dousai. I wish I'd had a bit more time.  
2015/04/01:
【ニコニコ動画】【エイプリル】東方乖靈異伝~Re:Highly Responsive to Prayers【フール】
■April Fool's PC-98 series, the fifth: an arrangement of Highly Responsive to Prayers. I can't believe this series is already four years old...  
2014/12/24:
【ニコニコ動画】東方邂封魔録 EXステージ
■Christmas series: SoEW Extra stage, arranged. Personally, I think this game has the hardest Extra boss out of the entire PC-98 era.  
2014/04/01:
【ニコニコ動画】【エイプリル】東方邂封魔録~Re:Story of Eastern Wonderland【フール】
■April Fool's Joke, the fourth: I arranged SoEW. It'll never get a Windows revival, will it…?  
2013/12/25:
【ニコニコ動画】東方繪夢時空 EXステージ
■As has been established for Christmas, here's a crazy idea I had for an Extra stage of PoDD. There's a buncha stuff coming at you.  
2013/04/01:
【ニコニコ動画】【エイプリル】東方繪夢時空~Re:The Phantasmagoria of Dim.Dream...【フール】
■April Fool's Joke, the third: an arrangement of Phantasmagoria of Dim. Dream. This one's basically a full game already, isn't it?  
2012/12/25:
【ニコニコ動画】東方懐幻想郷 EXステージ
■My Christmas plan: an Extra stage arrangement of Lotus Land Story. The stage portion's pretty well-made, by my standards.  
2012/04/01:
【ニコニコ動画】【エイプリル】東方懐幻想郷~Re:Lotus Land Story...【フール】
■The last videos gave me a taste of blood, so I made an entire series out of this.  
2011/12/25:
【ニコニコ動画】東方廻怪綺談 EXステージ
■I wanted to make an Extra version of the April Fool's video I'd made. And then there was Christmas coming up.  
2011/04/01:
【ニコニコ動画】【エイプリル】東方廻怪綺談~Re:Mystic Square【フール】
■Earlier I made a transcription by ear and arrangement of Legendary Illusion, and after that I wanted to make a game. Well, I went and did.  
Drawings
▼a thing I drew around the time of Len'en's 1st anniversary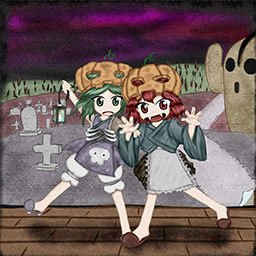 ▼a thing I drew for Len'en's 2nd anniversary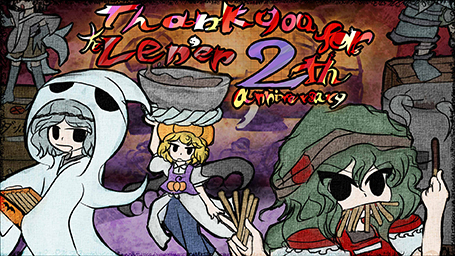 ▼a thing I drew for Len'en's 3rd anniversary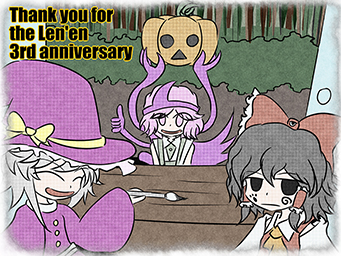 ▼a drawing of Jinbei I made for a Twitter poll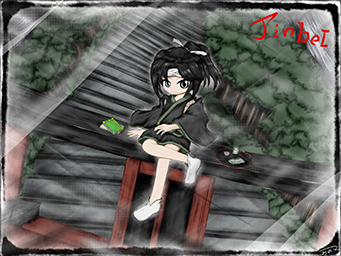 ▼a thing I drew for Len'en's 4th anniversary